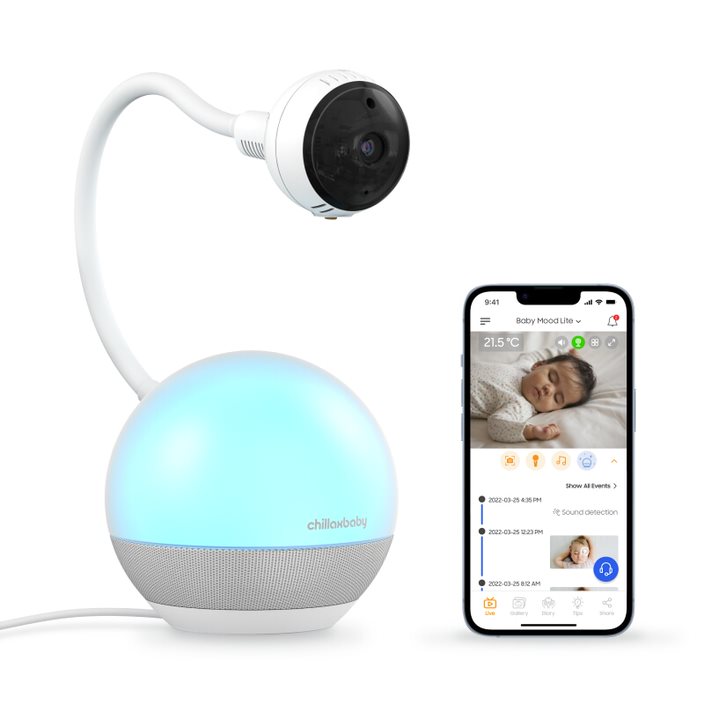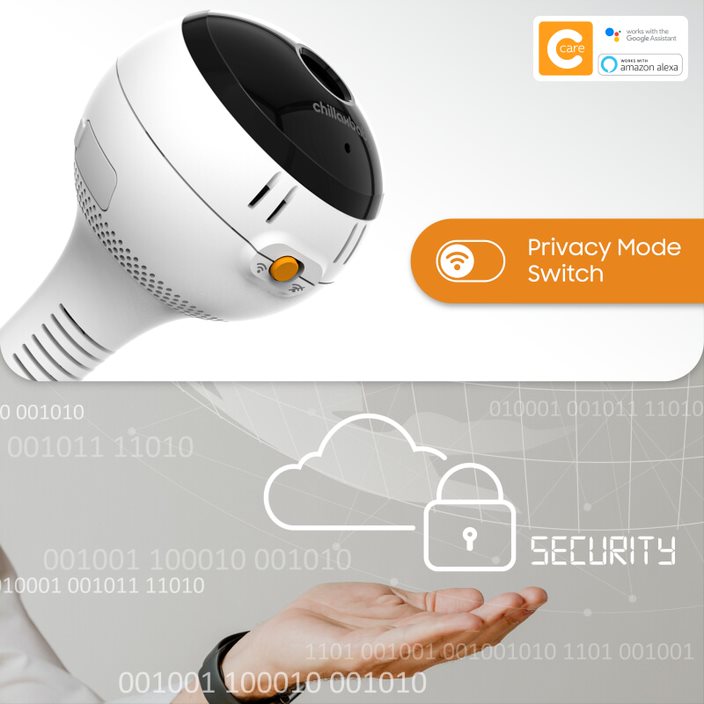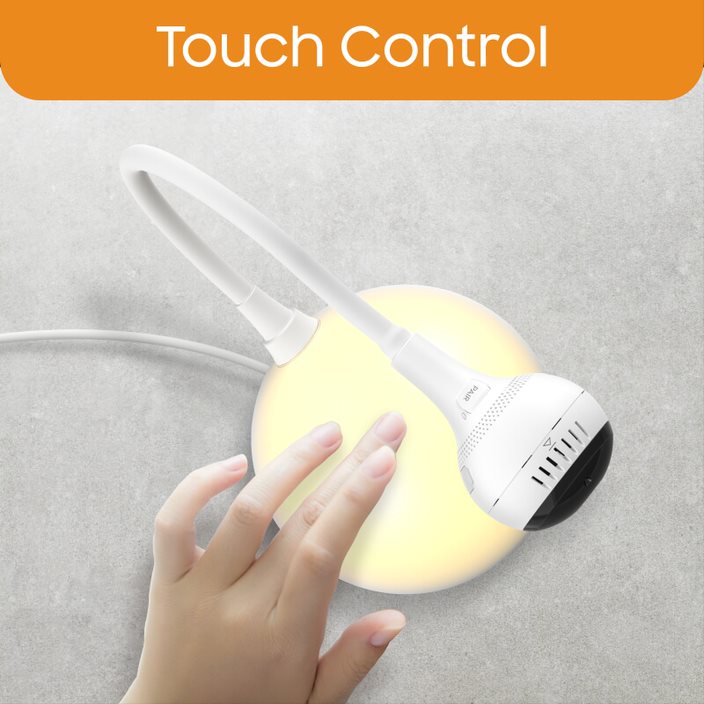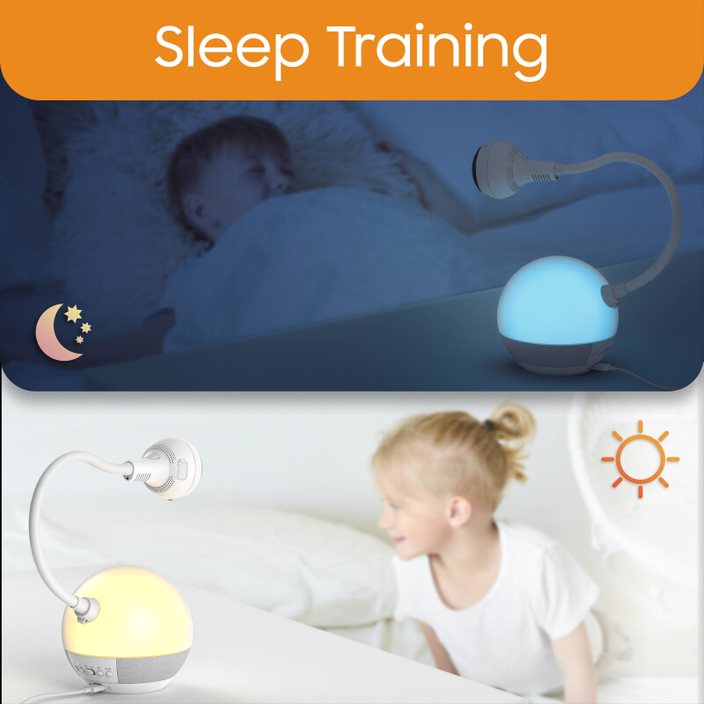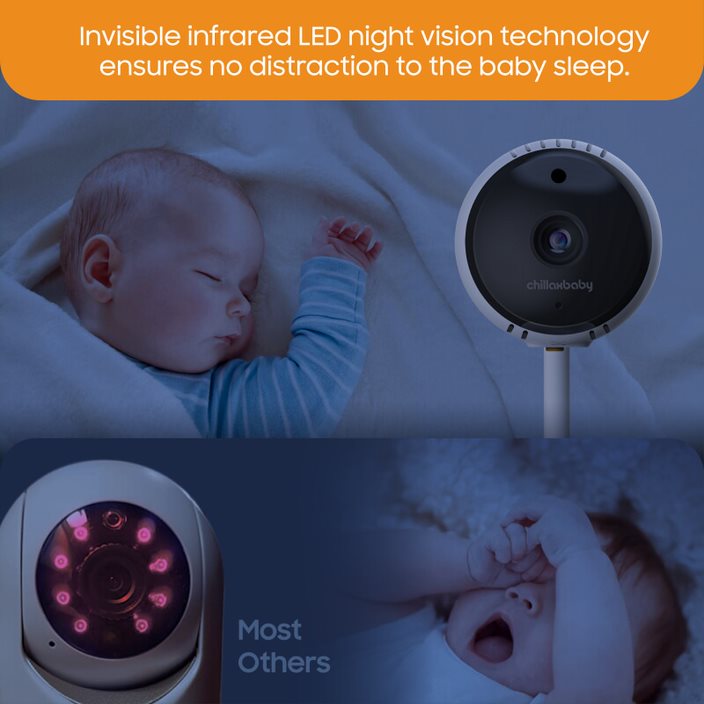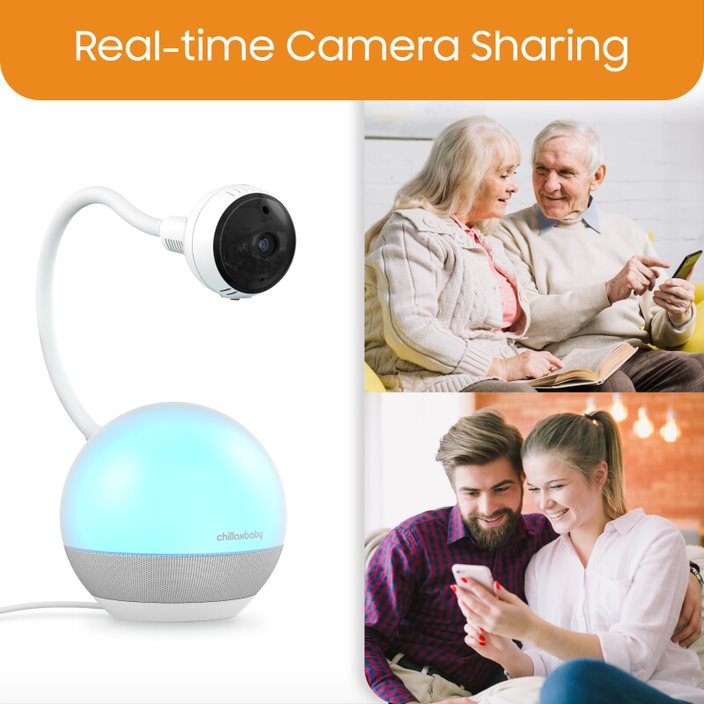 DM600 Baby Mood Lite
Prioritize your baby's well-being and create a serene environment with the Chillax DM600 Baby Mood Lite. It's the perfect solution for parents looking to enhance their baby's sleep routine and provide a safe and comforting space for their little bundle of joy, while being able to monitor them from anywhere.
Baby Mood Lite features a soft and adjustable night light, which emits a warm and comforting glow to help your baby feel secure and relaxed. Choose from different light colors and brightness levels to suit your little one's preferences.

Smart Full HD Baby Monitor with Mood Light Soother 
Say hello to Baby Mood Lite, a one-of-a-kind baby monitor, sleep trainer and mood light soother that is designed to help your little one sleep better, put them in a happier mood and lets you keep an eye on them from anywhere. The touch control mood light soother offers soft glow and soothing sounds to comfort your baby when they wake up. With the sleep training support of ChillaxCare app, it assists parents to establish healthy sleep routines with color and sound to teach your child when it's time for sleep or to wake up 
*Add a Giraffe Cam and turn this into a dual-camera baby monitor.
Product Name: DM600 Baby Mood Lite
Compatible with App (WiFi Enabled): Yes
Product SKU: DM600
Remote Access Sharing: Yes
WiFi ON/OFF Switch: Yes
Auto Dimming LED: Yes
Two-Way Talk: Yes
Infrared Night Vision: Yes
Room Temperature Monitoring: Yes
Digital Zoom: Yes
Built-In Night Light/Sleep Trainer: Yes
Built-In Speaker: Yes
Preloaded Audio, Soothing Sounds & White Noise: Yes
Additional Storage: Micro SD Card up to 32GB
Baby Mood Pro Camera
Night Light/Speaker Base
Power Adapter
Quick Start Guide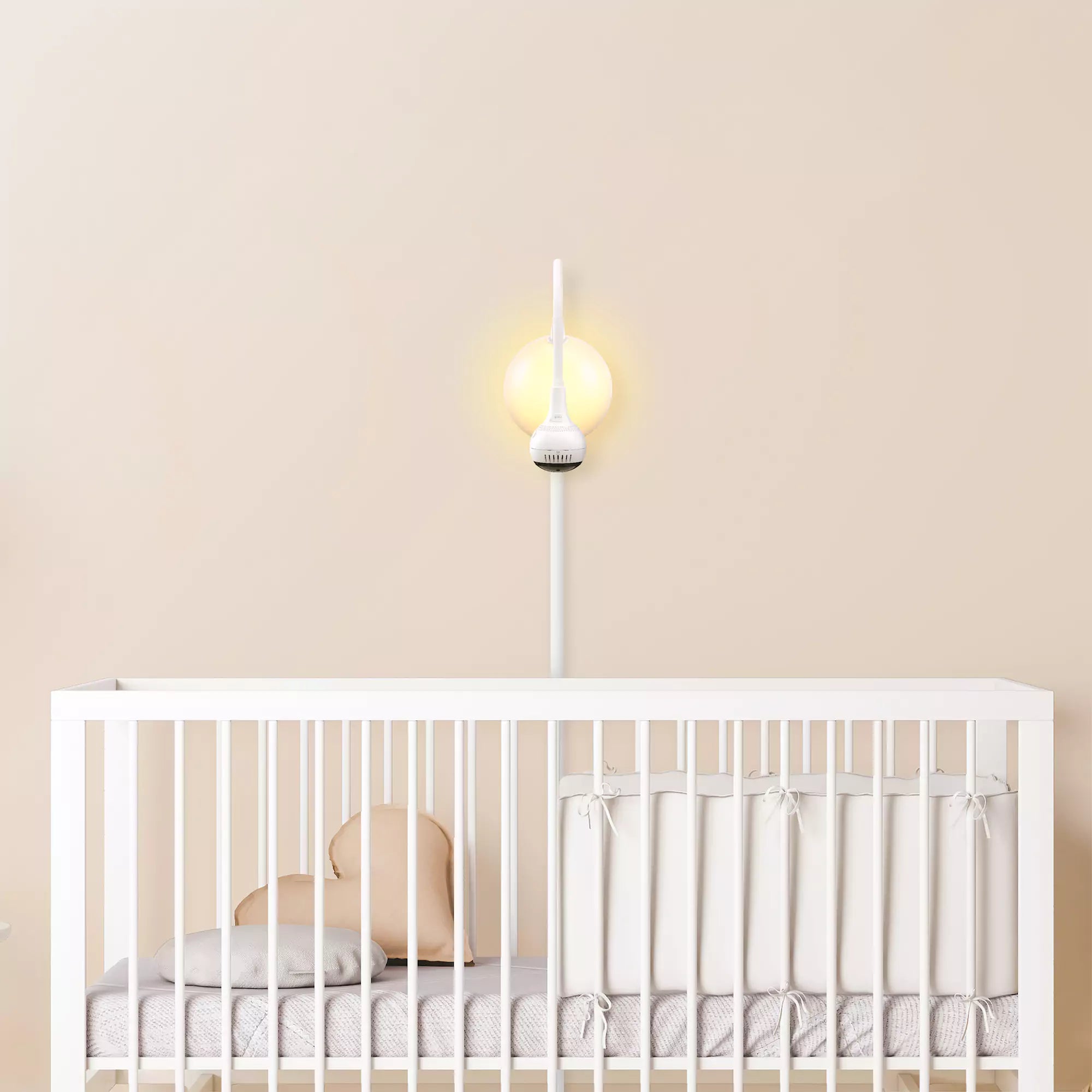 Easily secure it to the wall directly
Wall Mountable
You don't need to place the Baby Mood Lite on a dresser - you can secure it to the wall directly. With the built-in wall mounting holes, it takes just a few minutes to setup a more permanent installation.
Choose Between 8 Night Light Colors
Night Light & Lullabies
The detachable sleep globe provides you with up to 8 different night light colors. Plus, built-in lullabies can be enjoy through Hi-Fi audio or playback your own recordings so your little one can hear your own voice.
Quickly toggle Wifi Connectivity On or off
Privacy When You Need It
When it comes to WiFi baby monitors, you can never be too cautious. This is why we created a WiFi toggle switch, built right into the baby camera. Want that extra peace of mind - just switch the WiFi to off and it instantly becomes a non-WiFi baby camera.
Say goodbye to the annoying LED light
Auto-Dimming LED
All of our baby cameras come with an auto-dimming LED that dims in darker rooms. Say goodbye to annoying LED lights that shine in your baby's face and say hello to a good night's sleep.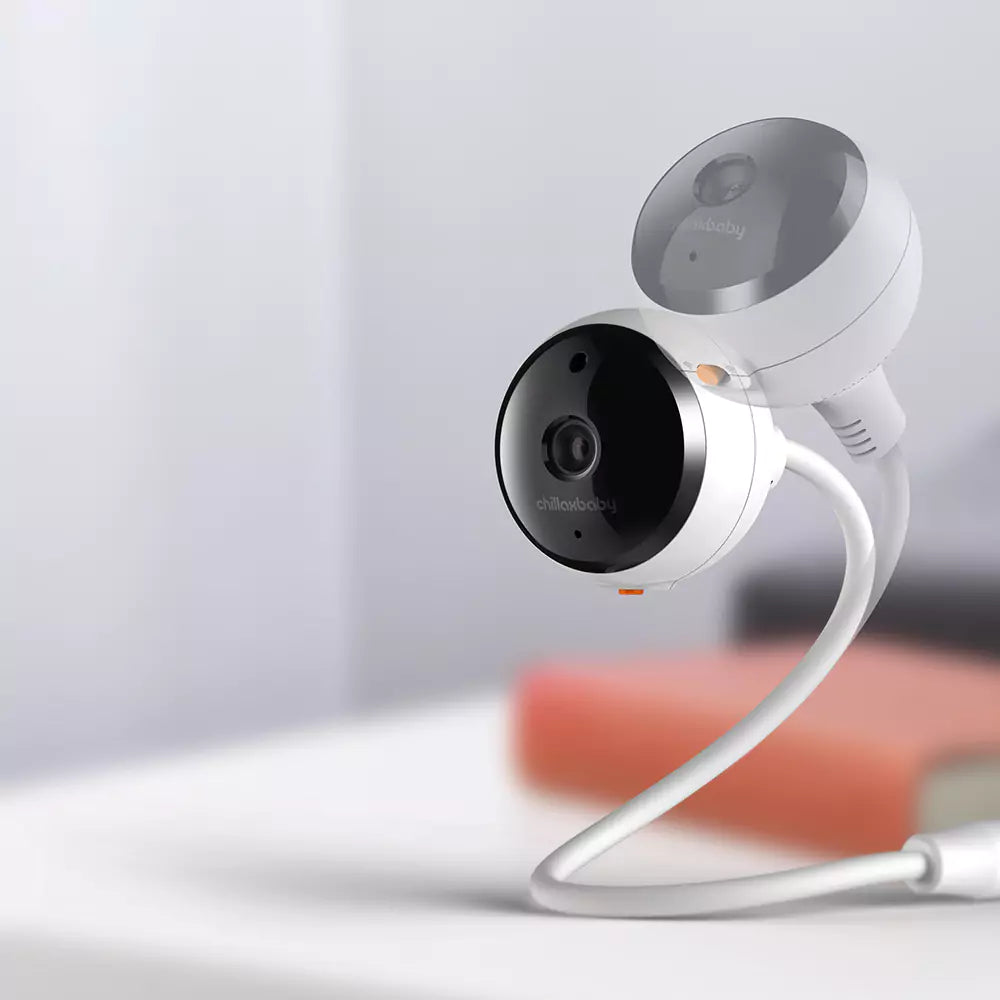 Twist & Turn It Any Way You Like
Flexible Gooseneck
With the Baby Mood Lite's flexible gooseneck, you can easily get a view of any angle of the room. Just twist and turn it any way you like and it will keep it's shape at all times.
Unlock even more features with the
ChillaxCare App
Pair your baby monitor with the ChillaxCare app to watch the live feed from anywhere. Setup a baby journal for your little one to track all of their milestones, share remote access with loved ones and receive alerts when sounds or motion is detected.
Putting this together and connecting wasn't too bad. Once up and running the picture and sound quality was surprisingly good. This is loaded with features I haven't seen in other products like this one. If anything, I noticed that baby actually looks at the light until she falls asleep so that's a plus!
This baby monitor is super cool and it incorporates so many features. The best feature to me is the gooseneck HD camera. It can often be hard to find just the right place to put a monitor so that it gets the view you want. With this one you have many more options as you can put the camera right where you want it with the flexible neck.
I'm using this as a security camera to watch my front porch from inside my house. It was really easy to set up and the app is really easy to use. Even with a double glass window pane obscuring part of the view, this camera still catches everything going on outside pretty clearly.